Unsolicited Full-time
Are you ready to be a part of a dynamic and innovative team that's shaping the future of digital commerce and content management? Look no further – Dynamicweb is calling for talented individuals to join our exciting journey!
Become part of a growing software company
DynamicWeb is one of the leading eCommerce providers in Denmark with more than a million users on our suite every day. With a robust suite of solutions ranging from e-commerce, content management, and digital marketing, we empower businesses to create seamless, engaging, and personalized digital experiences for their customers.
You will be part of an agile and international software company consisting of a total of 150 employees who cover Software Development, Software Consultancy, Sales, Marketing, Finance, and Support.
Each of us is committed to our line of work and to ensuring a simpler way of doing online business for the B2B industry.
Our organization has many different nationalities, so the daily routine might just as often be in English as in Danish.
Grow to become a success with us
Being part of a growing software provider means being able to influence the journey. We work under agile premises and are quick to adapt to changes in technology and within different markets.
We are always looking for talented people, who want to discuss IT Architecture, Sales techniques, be great digital advisors to customers or join one of our business support functions DW Care, Cloud and Operations or Finance.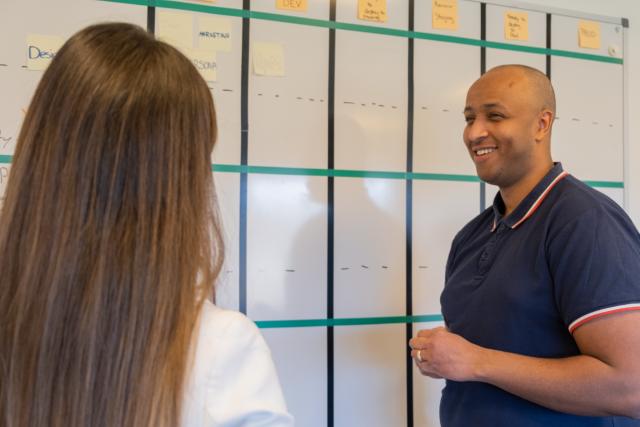 Join a community of tech enthusiasts
You will join us at our HQ in Aarhus where approx. 90 great colleagues look forward to welcoming you. We are an informal and fun workplace that likes to be social, whether that being over lunch, a Friday bar, or a game of paddle tennis. We are best described as tech enthusiasts with an entrepreneurial mindset that like to have fun. The Cloud and Operations team is a strong mix of young talents and more experienced specialists, giving you the opportunity to grow with us.
What to expect when joining us
We make sure to introduce you properly to the whole organization during your onboarding. We believe in flexibility and independence and, of course, got you covered in terms of pension, insurance, lunch, and the like. The ambiance is informal and humorous. The typical DynamicWebber is a social being and there's plenty of opportunity to get to know your colleagues away from the computer screen – we engage in social activities such as Friday bars, cultural events, and sport activities.
We do eCommerce
DynamicWeb offers an industry-recognized, cloud-based Digital Platform. We enable customers to deliver better digital experiences through our Content Management, Digital Marketing, eCommerce, and Product Information Management solutions. Our architecture is based on HTML, CSS, and JavaScript, which is part of DynamicWeb's own platform, built in .Net and C# with Dynamics NAV, BC, AX and CRM as links.
DynamicWeb's 300+ partners and 150+ employees in offices all around the globe are proud to support well over 4000 brands.
What's in it for you?
An opportunity to work in a culture with a winner's mentality with an industry-leading product.
Flexibility in working location & working from home based on where you are situated.
We will schedule and plan the onboarding to ensure you have the right tools to become truly successful. Also, we will introduce you to some of the coolest colleagues in the business. We like to keep things simple and have an informal structure with lots of laughs and events where you can get to know your teammates.